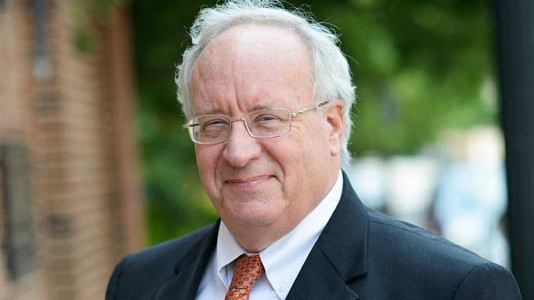 Richard F. Prentis, Jr. (Rick Prentis) is the senior managing member of the law firm. Rick was born in 1946, raised primarily in the midwest (Iowa), and came to Durham in 1964 to attend Duke University. In 1969 he married his wife, Sandi. He and Sandi have two daughters: Courtney, who is a licensed clinical social worker at Emory University in Atlanta, and Molly, who is a certified bilingual teacher and education program director in Durham. Rick and Sandi have two grandsons, Richard and Henry, and one granddaughter, Elizabeth.
Rick received his bachelor's degree from Duke University in 1968 and his juris doctorate degree from the University of North Carolina-Chapel Hill in 1972. He studied in London the summer of 1971 and received a certificate in international law. Rick received the prestigious offer of a federal judicial clerkship in 1973. While waiting for his clerkship to begin, he served as a law clerk with Stubbs Cole for the last six months of 1972. After serving a year as a clerk for the Honorable Gerald Bard Tjoflat, United States District Court Judge in the Middle District of Florida, Rick returned to the Stubbs Cole law firm in January 1974, where he continues his legal practice. He is admitted and licensed to practice law in all courts in the states of North Carolina and Florida.
For over 25 years, Rick has been designated by the Martindale-Hubbell as an AV preeminent lawyer, meeting the highest standards of ethics and legal competence as judged by an annual vote conducted in confidence by Martindale-Hubbell. That designation also qualifies the Stubbs Cole firm as an AV-rated firm. Rick has been selected by McClatchy Media, Legal Leaders, as one of North Carolina's top-rated lawyers.
In addition to practicing law, Rick has been chosen to serve as a continuing legal education seminar speaker on Real Estate & Bankruptcy and Real Estate & Ethics. He served six years as an instructor for the American Institute of Banking, teaching banking and uniform commercial code law to mid-level bank management personnel as part of their certification curriculum. He has also served as a four-session seminar speaker on estate planning for the United Methodist Foundation and as a seminar speaker on employment contracts for the Duke University Physicians Assistants School. Over the years, Rick has served his community in a variety of ways, including serving as president of the North Durham Rotary Club, president of the Duke Durham Alumni Association, and founding member of the Board of Directors of the Adult Oncology House of Durham, Inc.
Rick's strength is his versatility and broad experience. He has provided quality representation in all areas of real estate law, including land use, planning, zoning, and special use permit representation in all local and surrounding governmental jurisdictions. He is knowledgeable, experienced, and skilled in all areas of real estate development and financing, estate planning and estate administration, and small business organization and management. Another skill he possesses, which is necessary in today's world, is experience in all tax issues relating to these areas of practice. He has provided representation for the Internal Revenue Service and in the United States Tax Court. His lengthy and multi-disciplined experience provides a perfect foundation for the Stubbs Cole law firm and for your success in business.
Turn to me for legal advice that you can trust.
Education
Duke University, 1968

University of North Carolina, School of Law, 1972
Memberships
Durham County Bar Association

North Carolina Bar Association

American Bar Association
Boards and Experience
American Institute of Banking, Lecturer

Duke University Physicians Assistants School, Lecturer

North Durham Rotary Club, Past President

Duke Durham Alumni Association, Past President

Adult Oncology House of Durham, Inc., Member Board of Directors
Awards/Honors
AV-Rated Premminent Martindale-Hubbell Attorney

North Carolina Top-Rated Lawyers (McClatchy Media)