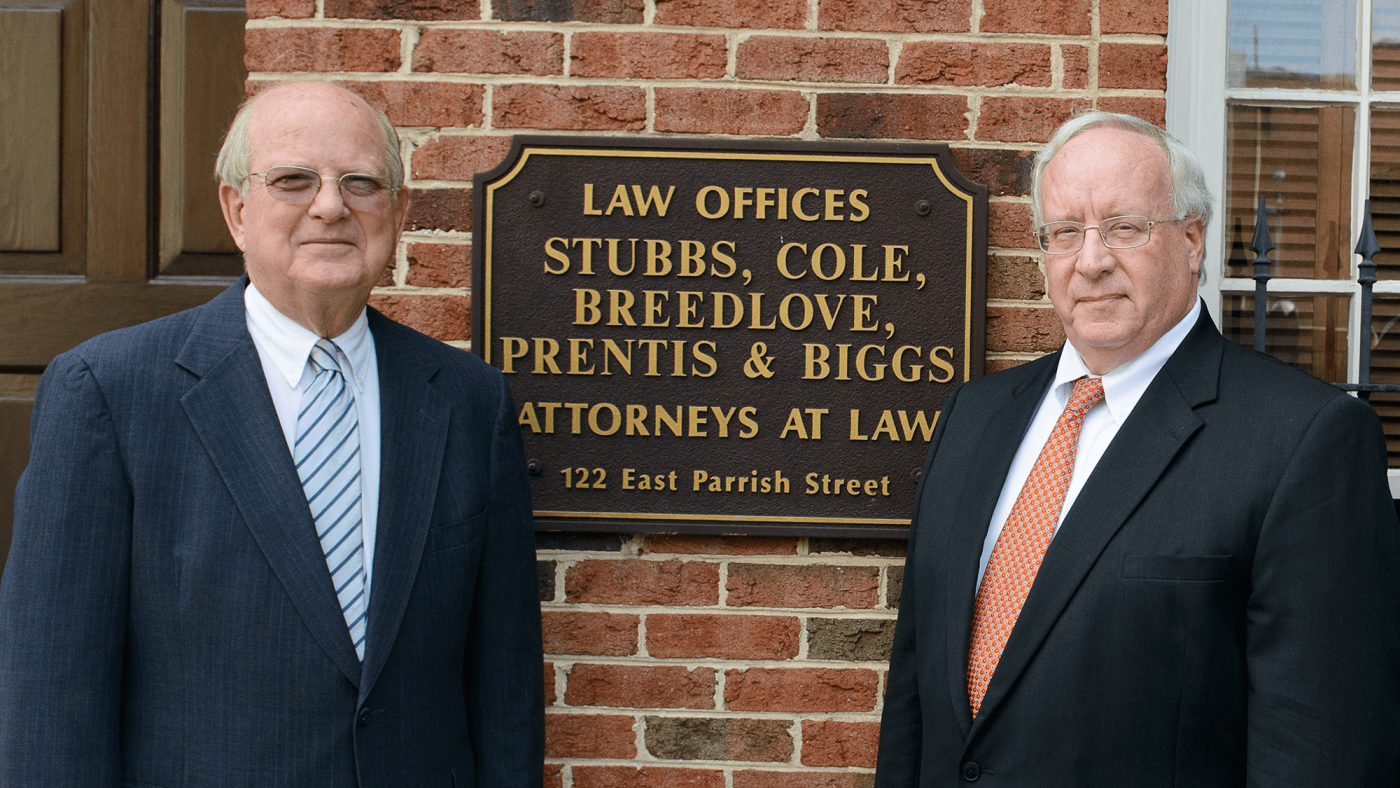 About Our North Carolina Law Firm
Located in southwest Durham, North Carolina, the Stubbs Cole law firm provides representation for clients throughout the triangle.
Our experienced team of attorneys is here to assist you, your family, and your business with all your legal needs.
Lawyers Who Build Long-Term Relationships
Our team of lawyers believes legal representation is about more than resolving a single issue; it's about building long-term relationships with clients. From buying your first home or dealing with the death of a family member to pursuing claims against others or seeking advice on the day-to-day operations of your company, we understand you need a team that's dedicated to your success from day one. The attorneys at Stubbs Cole believe in providing legal counsel for any matter that may arise in the lives of our clients.
More than 80 Years of History in Durham
In 1932, Allston J. Stubbs began his law practice in Durham, North Carolina. For more than three decades, Mr. Stubbs developed a law practice concentrating on residential and commercial real estate transactions and banking and commercial institutions. C. Thomas Biggs and James A. Cole, Jr. joined him in the 1960s, strengthening these areas of legal expertise and providing an even better service for their clients. Rick Prentis joined the firm in the 1970s. In the years that followed, this core group of attorneys continued to broaden their areas of focus to include criminal law, all while maintaining an emphasis on real estate transactions and representation of banking institutions. While other attorneys have come to the area and left to develop their own practices, Stubbs Cole has spawned the beginning of new firms across the triangle, including Durham, Raleigh, and Chapel Hill.
Stubbs Cole Tradition
The Stubbs Cole tradition continues today. Rick Prentis is the current partner of the firm, and Tom Biggs remains with the practice as counsel.
For more than 80 years, Stubbs Cole has set the standard in the Durham, North Carolina legal and civic landscape. We are Durham's oldest law firm practicing today, and Stubbs Cole is synonymous with quality legal representation and commitment to the Durham community.